Dr. Tina Woodard, CEO
Dr. Woodard, a seasoned human resources executive, is a fervent activist for girls and women. She brings passion, energy and creativity to her leadership role at I Am B.E.A.U.T.I.F.U.L., combined with over 20 years of management experience in manufacturing, government and higher education. She believes in living a purpose aligned life, as evidenced by her transition from a career in quality engineering to human resource organizational development early in her career.
Dr. Woodard's personal vision and purpose fueled her decision to leave the comfort of a full-time executive job in education to launch her own successful talent management and leadership development consulting firm, Capstone Performance Solutions, Inc. to help organizations develop and engage employees as leaders and create healthy workplace cultures, as well as to lead the global expansion of I Am B.E.A.U.T.I.F.U.L. to continue her advocacy for girls and women.
Dr. Zenobia Edwards, CFO
Dr. Edwards is an advocate for social justice and a notable figure in the field of education. From science teacher to alternative school principal; from college dean to business owner, Dr. Edwards' 20 plus years of educational contributions and initiatives have distinguished her as one of the leading authorities on school leadership and program development, especially as it relates to marginalized students
Dr. Edwards established the first full-day comprehensive alternative program in Darlington County School District in 1999. This program, Sonovista School, was the first alternative program in the state of South Carolina to have a fully established Junior Reserve Officer Training Corp (JROTC). Within three years of the program, this JROTC unit earned "Gold" status with honors. In addition, under Dr. Edwards' leadership, Sonovista School was highlighted as an Exemplary Dropout Prevention Program by the National Center for Dropout Prevention.
Dr. Sharaé Meredith
Dr. Meredith delights in sharing her passion of science and engineering with the next generation. Her goal is to pique the untapped fascination of young minds to the possibilities of what excitement awaits them in the exploration of a STEM field. Through her employment at Georgia Tech Research Institute as a Senior Research Engineer, she is able to bring hands-on experiments and activities to engage IAB participants.
With all degrees in Aerospace Engineering, Dr. Meredith is a graduate of Tuskegee University (B.S.), Georgia Tech (M.S.), and the first black woman to graduate from Penn State's Aerospace department with a PhD. She has worked as a Thermal Analyst in Environmental Control Systems on the Global Hawk team at Northrop Grumman Corporation and as a Staff Research Scientist in Signature Management within Skunk Works at Lockheed Martin Aeronautics Corporation. She enjoys utilizing her experiences to cultivate the talents of future scientist and engineers.
Dr. Raegan Tuff
Dr. Tuff has one goal—empowering others to live holistically.  Dr. Tuff can be found teaching graduate courses and spearheading events for nontraditional learners, women, and youth.
As a Public Health Analyst, she partners with states and communities to place the bulls-eye on innovative public health projects. She also manages agency wide technology solutions that help to track chronic disease prevention activities in all 50 states and Pacific Islands.
Dr. Tuff is an esteemed graduate of Furman University. A native of Atlanta, GA, she earned a PhD in Health Promotion & Behavior from the University of Georgia College of Public Health. She obtained a Master of Public Health (MPH) degree from Morehouse School of Medicine. She is a member of the American Evaluation Association (AEA) and the Society for Public Health Education (SOPHE).
Kajal Jain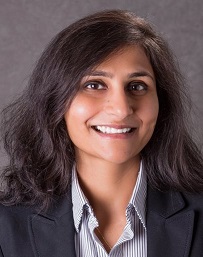 Kajal Jain is a Product Management Executive at Kronos, Inc., a leading software company that provides powerful human capital management and workforce management solutions to help manage and engage the entire workforce from pre-hire to retire. She has over 17 years of experience in the software industry in both software engineering and product management.
Kajal has a degree in MS in Computer Science from University of Florida, and an MBA from University of Georgia.  She believes in giving back to the community and volunteers her time for several non-profit organizations and philanthropic endeavors affiliated to both Atlanta and India.
Kajal has been a mentor and a volunteer for IAB since 2008, and joined the IAB Board of Directors at the beginning of 2011.