B.E.A.U.T.I.F.U.L. Advisory Board

Nadra Hunter
Nadra Hunter is a Senior Business Analyst with the Federal Reserve Bank of Atlanta (6th district). The Federal Reserve system is responsible for the stability of the nation's economy and ensuring maximum employment. In her role, Nadra oversees staff development and programs that influence close to 400 staff members.
Nadra has an undergraduate degree in Public Relations from the University of Florida and a Master's in Adult Education and Organization Development from the University of Georgia. Serving others is at the core of who Nadra is and as such, she gives back through volunteering at church on her son's PTSA board and has served as a volunteer with IAB in multiple capacities since 2011. She joined the IAB Board as a member in 2021.
Dr. Sharaé Meredith
Dr. Meredith delights in sharing her passion for science and engineering with the next generation. Her goal is to pique the untapped fascination of young minds to the possibilities of what excitement awaits them in the exploration of a STEM field. Through her employment at Georgia Tech Research Institute as a Senior Research Engineer, she is able to bring hands-on experiments and activities to engage IAB participants.
With all degrees in Aerospace Engineering, Dr. Meredith is a graduate of Tuskegee University (B.S.), Georgia Tech (M.S.), and the first black woman to graduate from Penn State's Aerospace department with a Ph.D. She has worked as a Thermal Analyst in Environmental Control Systems on the Global Hawk team at Northrop Grumman Corporation and as a Staff Research Scientist in Signature Management within Skunk Works at Lockheed Martin Aeronautics Corporation. She enjoys utilizing her experiences to cultivate the talents of future scientists and engineers.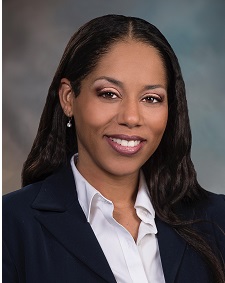 Alexis Balingcongan
Alexis Balingcongan is the Clinical Solutions Manager at Connexall where she leads a team to identify, qualify and develop a strategic plan to resolve hospital integration and workflow needs. In addition, the team focuses on enterprise architectures and application platforms required for successful implementations of best practices. Alexis is an experienced Registered Nurse with a demonstrated history of working in the hospital & health care industry for over a decade. A Certified Ambulatory Perianesthesia Nurse skilled in Inpatient Acute Critical Care and Surgical Ambulatory Services. Alexis obtained a master's degree in Nursing Informatics from New York University and served as an Executive Board member to the Advanced Nursing Student Organization and Nursing Informatics Student Organization. She has also utilized her skills, experience, and expertise to build and grow Regional Anesthesia Block Programs during her time at Memorial Sloan Kettering Cancer Center.
Alexis absolutely loves nursing, her patients, technology, and the value of innovation to improve all aspects of care to them. As a Board Member at Large for NYS HIMSS, Alexis values and understands the importance of mentorship, advocacy, and education. Alexis currently is a member of the NYS HIMSS Nursing Committee, NYS HIMSS Advocacy Committee, NYS HIMSS Diversity Committee of which she has served as a moderator and director for a Nursing Diversity Conference and Co-Chairs the Philippine Nurses Association of America Nursing Informatics Committee.
Dr. Wandy Taylor
Dr. Wandy Taylor has 23 years of experience as an administrator in public education. She has worked in South Carolina and Georgia as a counselor, assistant principal, director of early childhood development, and principal. In addition, she worked 15 years in the corporate sector as a director of human resource services.
​​Dr. Taylor holds an Ed.D in Educational Leadership and Management from Capella University, an Ed.S in Educational Administration from the University of West Georgia, a M.Ed from South Carolina State University and a BA from the University of South Carolina.
Dr. Taylor is the CEO of Taylor & Taylor Education Consultants, LLC., a company she co-owns with her husband. She also works as a performance consultant with the Georgia Leadership Institute for School Improvement (GLISI).
Ann-Marie Hammond
Ann-Marie Hammond is a Certified Public Accountant and a Six Sigma Green Belt in process improvement. She has an Executive Master of Business Administration from The University of North Carolina at Chapel Hill. She holds a Bachelor of Science in Accounting from Fayetteville State University and a Bachelor of Theology from the Christian Life School of Theology (CLST).
Ann-Marie is the Senior Vice President of Finance and Accounting Concessions International, LLC (CI). She is responsible for strategy, guidance, and oversight for all Financial, Treasury, and Accounting functions.
With over 25+ years of experience, Ann-Marie is a proven leader in her field and always demonstrates her unfaltering commitment and leadership at work as well as in the communities in which she lives. She is a Lifetime Member of the National Association of Black Accountants, Inc., past Board of Directors for the UNC Atlanta Alumni chapter, Court Appointed Special Advocate for neglected and abused children, a member of the National Black MBA Association, a Lifetime member of Gamma Phi Delta professional women's sorority. She also serves in her church as a Christian Education teacher. As a Breast Cancer Survivor, Ann-Marie is passionate about health and wellness. She has run eight marathons, is a certified spin instructor, and has won several fitness competitions over the years. In her free time, she loves to travel, attend concerts and festivals, write, volunteer, and spend quality time with family and friends.
Dr. Evelyn Flemons
Dr. Evelyn Flemons received her Doctor of Chiropractic degree from Life University in Marietta, Georgia, and her Bachelor of Science in Biology from the University of Mississippi (Ole Miss). As a chiropractor and biologist, it provided Dr. Flemons the ability to understand the human body as a science both inside and out. Dr. Flemons chose chiropractic during her last year at Ole Miss where she attended a seminar based on chiropractic. She decided to shadow a local chiropractor and once she discovered that chiropractic was not just a one-field specialty, she was all in. Chiropractic to Dr. Flemons is a multi-specialty in the sense that it can help with an array of conditions such as allergies, sinus problems, ear infections, blood pressure etc.
She is committed to helping all of her patients live a wellness lifestyle and to maintain it. She has been serving the community in Gainesville, GA since November 2013 at her practice named Injury Relief Chiropractic. When not practicing Chiropractic, Dr. Flemons enjoys spending time with her family which includes her husband of 13 years and her two daughters ages 5 and 10. Her end goal is advocating for patients when they can't themselves. She likes to be a role model to young children by showing them that anything can be achieved throughout life despite one's circumstances.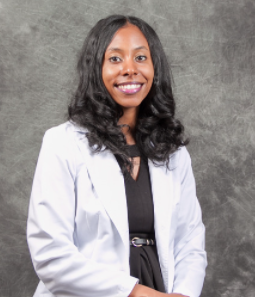 Support
I Am B.E.A.U.T.I.F.U.L.